Cannabis has been in the news lately as the Commonwealth reviews and enacts new laws associated with its use. In June 2022 Attorney General Miyares issued a multi-state letter urging congress to protect children and take action on THC look-alike products. Read his press release and letter to congress.

One fact is settled: In Virginia, it is illegal for anyone under the age of 21 to consume or purchase cannabis. Check out Virginia Rules topic, Alcohol, Tobacco and Marijuana, for more on how Virginia law addresses underage cannabis use.
Cannabis* use by teenagers is at its highest level in 30 years, and today's teens are more likely to use marijuana than tobacco.
* Cannabis, a genus of flowering plants, has a wide range of effects on the body and brain. The term includes inhalables, edibles, and any other product made from the plant. Marijuana and cannabis terms can be used interchangeably.
According to the Centers for Disease Control and Prevention, in 2022, 30% of 12th graders reported using marijuana in the past year, and 6% reported using marijuana daily in the past 30 days.
According to a 2021 Virginia Youth Survey conducted by the Virginia Department of Health, 13% of high school students currently use cannabis.
Cannabis use can harm a teen's health and well-being. The teen brain is actively developing and continues to develop until around age 25. Marijuana use is associated with increased risk for the following issues:
Harm to brain health
Mental health issues
Impaired driving
Increased potential for marijuana use disorder, the inability to stop using marijuana even though it's causing health and/or social problems.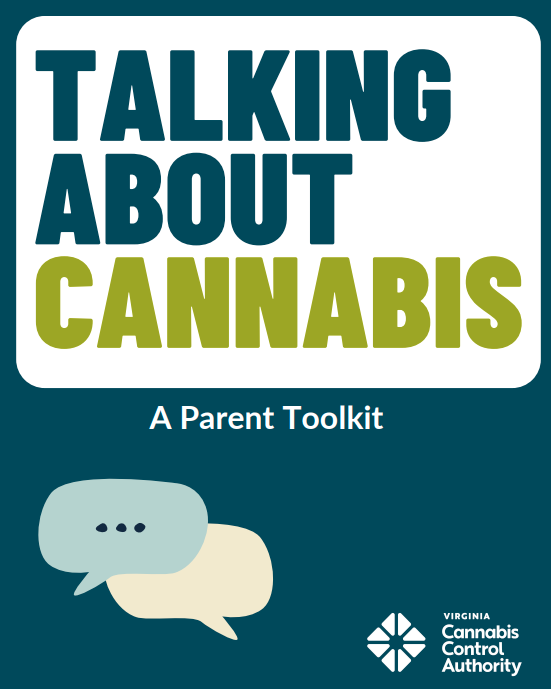 The Virginia Cannabis Control Authority (CCA) has created a new toolkit that can help guide discussions with youth about the risks associated with underage cannabis use. Part of their mission is to promote the health, safety, and wellness of Virginians. The new booklet covers topics such as:
Types of cannabis products
Effects of cannabis on the developing brain and body
Virginia cannabis laws
Tips for talking to your child about cannabis
Signs of possible cannabis use in youth
Having early, age-appropriate conversations about cannabis creates a foundation for responsible decision-making that can help children make safe and healthy choices.
Check out Talking About Cannabis: A Parent Toolkit (PDF)
Sources